Open 7 Days a week. See Timetable below.
Skateboards, Scooters, Rollerblades & Roller Skates.


Sanbah Grindhouse skatepark comprises of a 570 square metre concrete skate park purpose designed and built by Concreed Skate Park Construction as well as a skate shop and an equipment hire shop with children's and adult sizes available. As it is indoors and air-conditioned we are open regardless of the weather, so you can skate, scooter, rollerblade or roller skate rain, hail or shine.
Opening Hours:
Monday, Tuesday, Wednesday: 7am-6pm

Thursday: 7am-7pm
Friday: 7am-6pm
Saturday: 7am-5pm
Sunday: 7am-4pm

Store Information:
Shop 35, Marketown Shopping Centre
CNR Parry St & Steel St, Newcastle NSW 2302
Ph: 02 4925 2714


Take our Google 360 Tour above
Skateboard, Scooter, Rollerblade & Roller Skate.

Sanbah Grindhouse offers one hour skate sessions in the park from 7am, 7 Days a week.
We offer private and group lessons for those wanting to learn skateboarding or improve on their skills.

Our skate shop employees and skate park instructors are all skaters themselves and hold a Working With Children's Check and Senior First Aid Certificate so they have the experience and knowledge to provide a safe environment as well as expert advice in the skate shop or during lessons.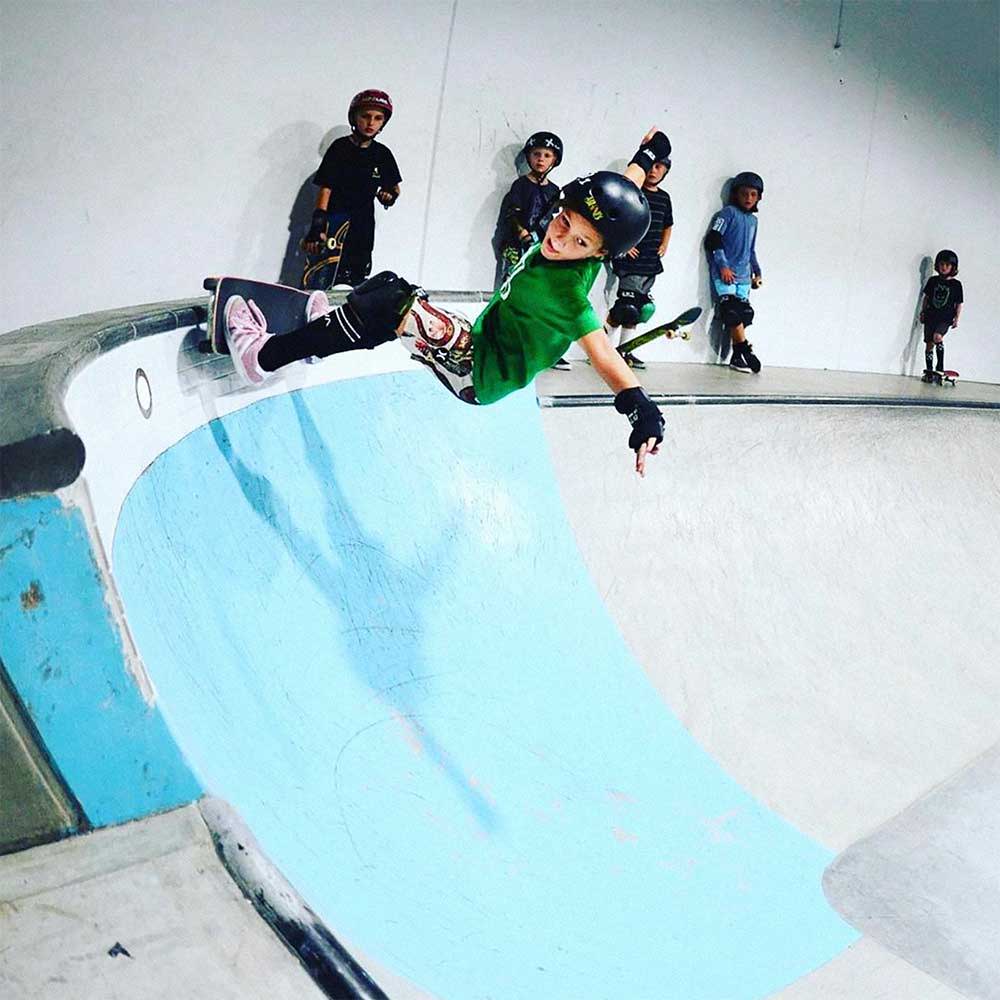 We offer After School Programs & Vacation Skate Programs catering to primary school & high school children, to provide a supervised activity which is fun and active.

Our team of experienced skate instructors run the programs and cover the basics from correct pushing techniques, building balance skills across various transitions and building up to learning tricks and using the harder obstacles.

Grindhouse are a registered provider under the Active Kids Program. Parents, guardians and carers of school children can apply for two $100 vouchers per year to use towards the cost of the programs. To find out more about this, go to the Service NSW website.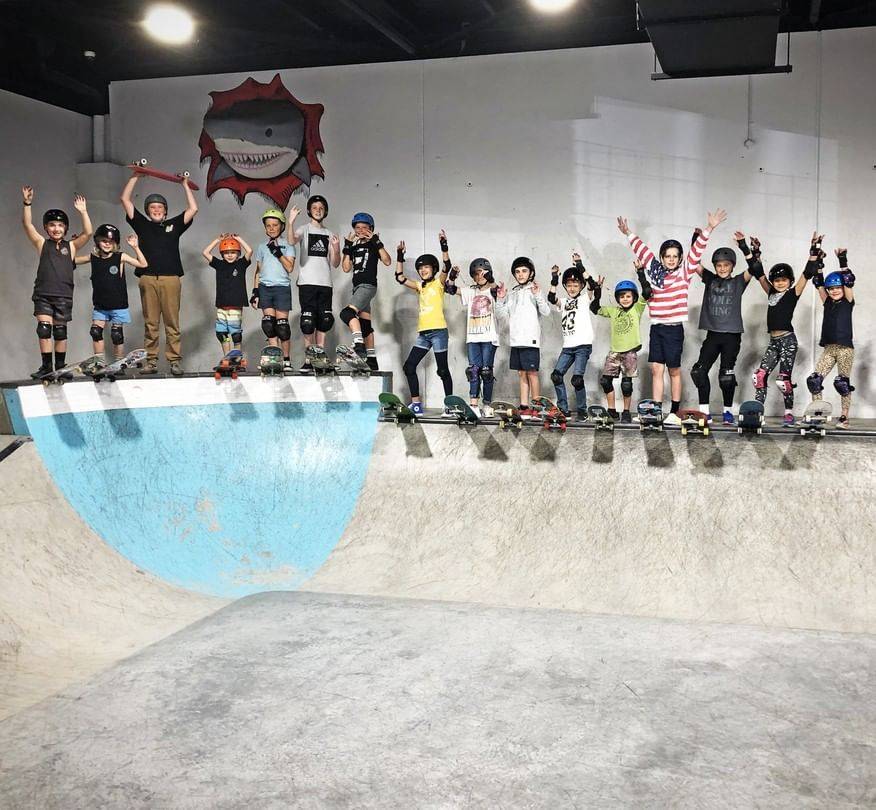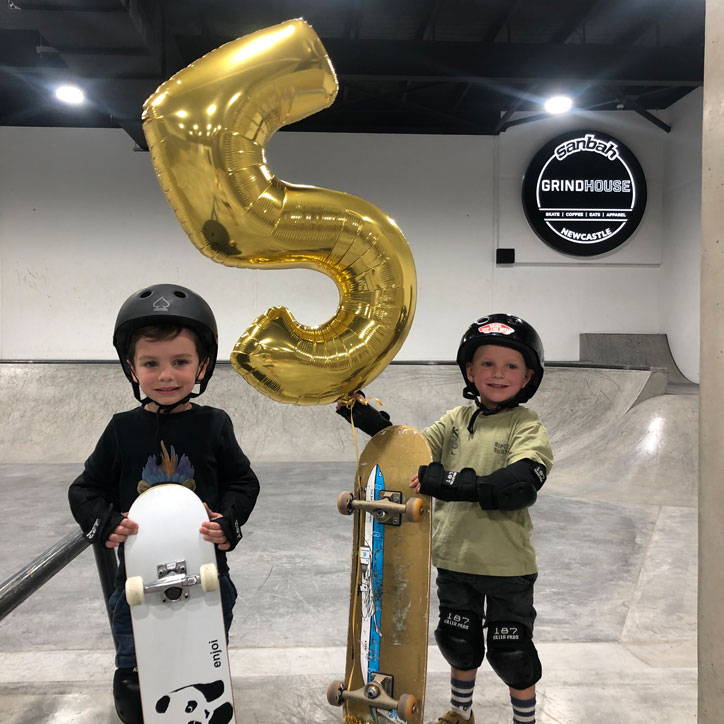 BIRTHDAY PARTIES & FUNCTIONS
Book out our space for your next birthday, work event or celebration.We can design a package to cater to your needs.
See Birthday Packages Here

There are various possibilities for our skatepark or cafes spaces including:

• Birthday or Celebration
• Art Exhibition Space
• Fundraiser
• Skate/Scooter/Roller Skate/Rollerblade activity
• Work team bonding activity

With a 12 seater mini-bus as an optional extra, we can also get you to and from your event.

Email info@sanbahgrindhouse.com to let us design a package for you.

We offer a dedicated skate retail & hire section which sits above the skatepark with a viewing deck.
Have a shop, grab a coffee or a bite to eat from the Grindhouse Café and relax on viewing deck which overlooks the skatepark.

Skate brands stocked: Volcom, Adidas, Nike, Vans, HUF, New Balance, Globe, Thunder, Girl, Chocolate, Baker, Deathwish, Pass-Port Skateboards, Independent, Polar Skate Co, Alltimers, Madness Skateboards, SOVRN Skateboards, WKND Skateboards, Pizza Skateboards, Real Skateboards, Anti-Hero Skateboards, 5Boro NYC, Santa Cruz, Enjoi, Bronze 56K & many more!
Take our Google 360 Tour